Concert Hall Aarhus is the setting for an interactive piece that invites the citizens of the city to be part of a shared experience. In contrast to billboards, Aarhus by Light is not driven by commercial interests. Rather it is an alternative staging of the encounter between the citizens of Aarhus and a cultural landmark. It is a blend of architecture, ornament, and interactive entertainment.
People experience the facade in a multitude of situations. They may be headed for the Concert Hall or passing by on their way to shopping. Some may cast a quick glance and hurry on, while others will be lured to explore the interactive potentials of the facade.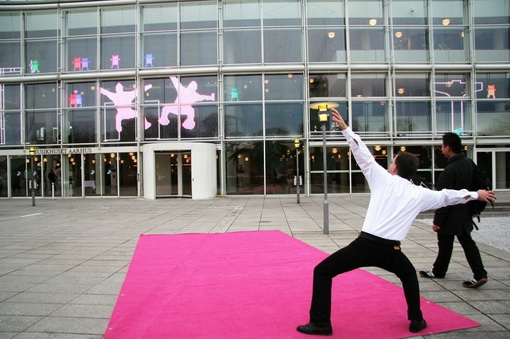 It has been a challenge to come up with a design that functions with all of these situations in mind. However, we carry out the Aarhus by Light experiment precisely to gain insights into the workings of media facades.
The interactive facade consists of 180 m2 LED displays. The displays are not in the shape of a giant rectangular TV, rather they form an organic shape that becomes part of the architecture.
The facade is interactive. On the path towards the concert hall, a number of sensors capture the movements of passers-by and transform them to silhouettes on the facade. In this way, you can contact and play with the luminous creatures.
via: aarhusbylight.dk, cavi.dk