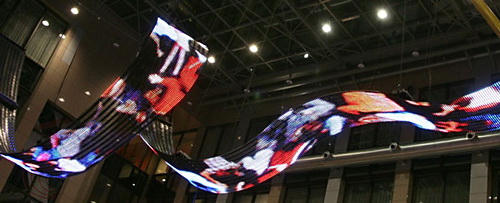 BLIP's new installation for the artist Daniel Canogar marks the opening of the Spanish Presidency of the EU. Between 28th and 30th December 2009 BLIP completed this major art installation in the Council of the European Union, Brussels. Collaborating with Daniel Canogar, BLIP has used its P37 display and PixelBus technology to realise a 37m LED sculpture suspended 10m above the ground in the atrium of the Justus Lipsius building. Conceived as a looping strip of display visible in daylight, the installation allows Canogar's work to reflect in the glass and marble surfaces of the atrium, creating a very large field of moving imagery depicting migration and the transforming population of the EU.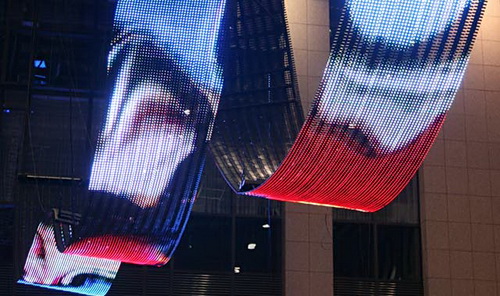 Daniel Canogar said of the project:
The sculptural screen, […] has an undulating shape and includes a full loop […] long and thin, it resembles a pathway suspended in mid-air. The screen displays videos of people walking or crawling, taken with an overhead camera. The images mirror the constant flow of people that cross the atrium. The workers, politicians, advisers and visitors of the European Council animate the building and, consequently, the European project. The sinuous forms of the installation create multiple perspectives as the figures climb over the loop in the display – appearing and disappearing through the length of the screen. The imagery is also reflected on the building facades and the glass ceiling of the atrium, amplifying the visual effect.
via/by: blipcreative.com
by: danielcanogar.com