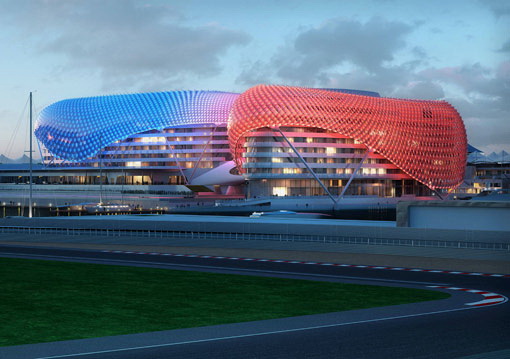 Asymptote Architecture, the award-winning, New York-based practice, nears completion of The Yas Hotel project in Abu Dhabi, UAE. The Yas Hotel is a 500-room, 85,000-square-meter complex now under construction by Aldar Properties PJSC.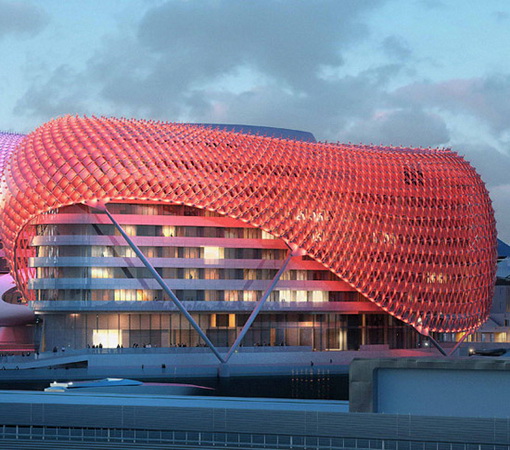 The Yas Hotel is one of the main architectural features of the ambitious 36-billion-dollar Yas Marina development and accompanying Formula 1 raceway circuit, also near completion. Asymptote's founders and partners Hani Rashid and Lise Anne Couture envisioned an architectural landmark embodying various key influences and inspirations ranging from the aesthetics and forms associated with speed, movement and spectacle to the artistry and geometries forming the basis of ancient Islamic art and craft traditions.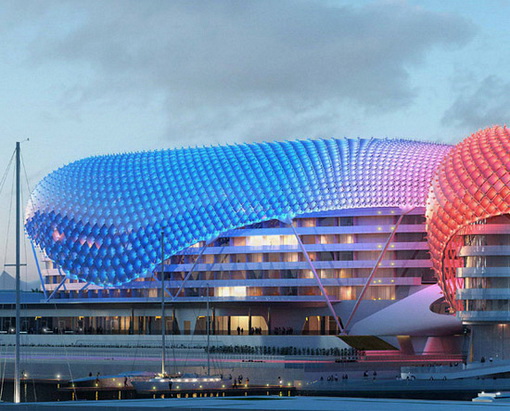 The main feature of the project's design, a 217-meter expanse of sweeping, curvilinear forms constructed of steel and 5,800 pivoting diamond-shaped glass panels. This Grid-Shell component affords the building an architecture comprised of an atmospheric-like veil that contains two hotel towers and a link bridge constructed as a monocoque sculpted steel object passing above the Formula 1 track that makes its way through the building complex. The Grid-Shell visually connects and fuses the entire complex together while producing optical effects and spectral reflections that play against the surrounding sky, sea and desert landscape. The architecture as a whole "performs" as both an environmentally responsive solution as well as an architecture of spectacle and event.