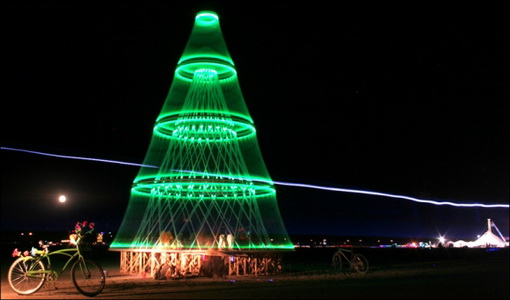 Inspired by the theme "The Green Man" architecture students Manuel Kretzer and Hans Sachs designed "The Cone", an accessible dynamic structure. At night 700 LEDs from OSRAM Opto Semiconductors turned "The Cone" into a shining, rotating sculpture, visible from almost every point of the festival. The sculpture was built with two cones made of PVC-tubes, which were set on top of each other with the outer cone designed to rotate to create energy. The 8 meters high interior cone was mounted stationary on the platform and the 9 meters high exterior cone was fastened to the interior cone. Through the use of wind energy and human force the rotating sculpture produced energy for the nocturnal illumination.
The sculpture was illuminated by 700 green 5mm LEDs emitting light into the PVC-tubes. Reflectors were used to achieve the required narrow radiation. At night visitors to the interior of the sculpture could admire the fascinating effect of the overlap of the rod structures and the resulting continuous dance of shadow plays and light.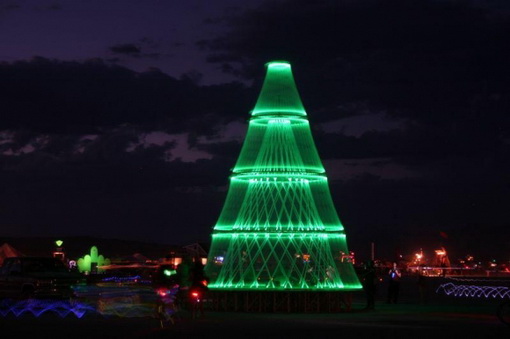 LEDs from OSRAM Opto Semiconductors were chosen to illuminate the artwork due to their robust nature and bright illumination. Moreover their small size made the LEDs ideal for the coupling into the PVC-tubes. During the festival the LEDs had to withstand temperature changes from 5°C at night to up to 45°C at noon. Heat, sandstorms and heavy winds were also challenges.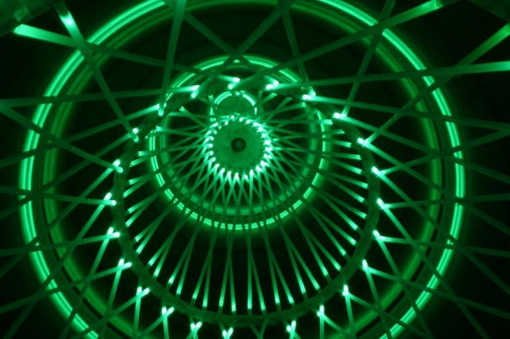 The "Burning Man Festival" is one of the largest art gatherings in North America. Each year at the end of August the festival takes place in the Black Rock Desert in Nevada, approximately 150 km north-east of Reno. In 2007 more than 45,000 people erected the 16km2 large artificial Black Rock City, which disappeared at the end of the festival without a trace.
via: osram-os.com, burning-man.eu