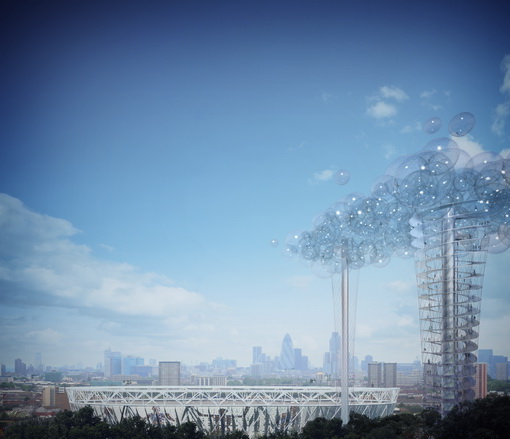 The history of Olympics and Expos is one of heaviness– of mass and monumentality and conspicuous expenditure on immovable objects whose legacy has occasionally endured, but have always been outdated. Our most extraordinary contemporary feats of engineering are more stealthy, more extensive and more invisible than these traditions of glass and brickand steel: Code rather than Carbon.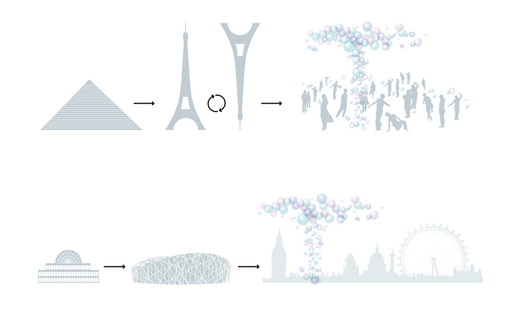 The Cloud proposes a new form of monument – a new form of collective expression and experience, and an updated symbol of our dawning age. It proposes an entirely new form of observation deck, high above the Olympics – from which one can not only see the whole of London, but the whole of the world, immersed in the euphoric gusts of weather but also immersed within that new, pressing and endlessly compelling environment in which we increasingly congregate – the digital sublime.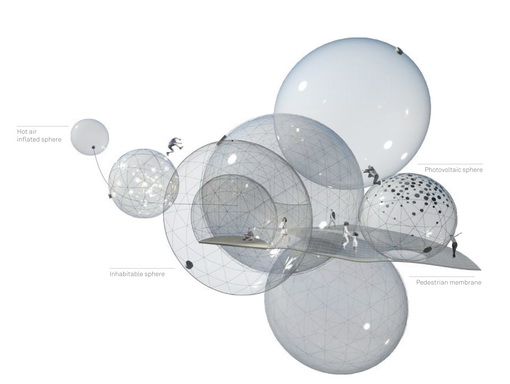 The principal effects of the Cloud are generated from their context – from the aerial sea of swarming data, from the diverse populations of London, the UK and the wider string of global villages, and from the seamless stretch of weather that unites us all. The structure is comprised of a filigree central array of columns – servicing as circulation systems dropping from the sky like the tendrils of a banyan tree system.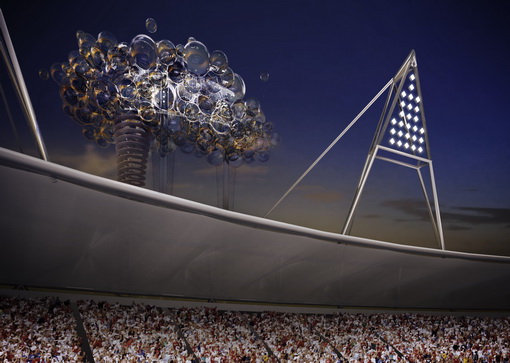 The inflatables are saturated with an LED information system which densifies locally into lightweight info-screen hotspots where visitors can navigate information about the immediate surroundings. The luminosity and air pressure of each sphere is independently controlled –– giving rise to the networked, self-organizing Cloud.
via: the CLOUD | www.raisethecloud.org