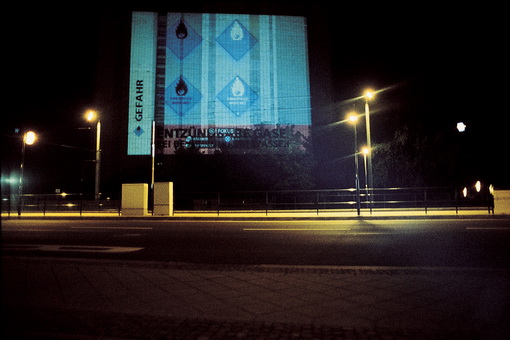 Vierunddreißig Aktionen von Hans Nevídal
vom 10. Mai 2000 bis zum 10. Mai 2033 (jeweils 22:00 Uhr) an den Fassaden der Deutschen Nationalbibliothek
Am 10. 5. 2000, etwa zum Zeitpunkt des Autodafés vom 10. 5. 1933, begann der Wiener Künstler Hans Nevídal mit Projektionen von Brandschutzfilmen an die Außen wand der Deutsche Nationalbibliothek in Frankfurt. 2001 wurde diese Aktion an der Deutschen Bücherei Leipzig weitergeführt. 2002 fand sowohl in Frankfurt wie in Leipzig eine Aktion statt, wobei in Leipzig alte 35mm-Brandschutzfilme aus den DDR-Beständen der Feuerwehr Leipzig gezeigt wurden. Seither wird alternierend oder an beiden Orten gleichzeitig projiziert. Dieses Jahr zeigt Nevídal in Leipzig den Film » THE ART OF FIGHTING WILDFIRES / techniques, awareness, training«.
via.: brandschutz.mur.at