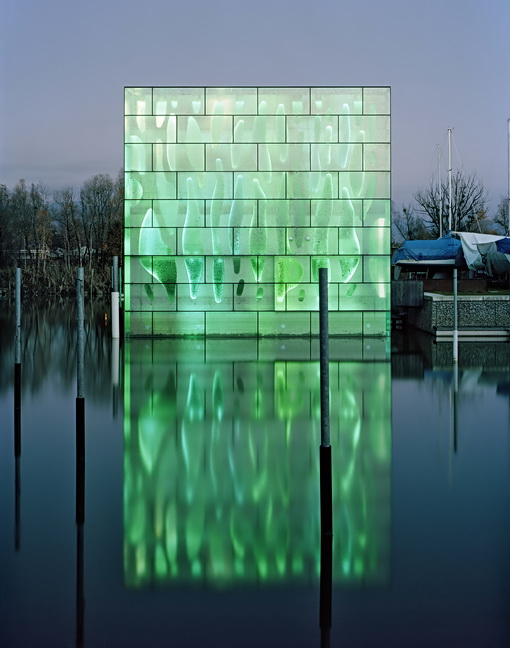 Once Fussach was dominated by excavators, now it is much more picturesque with boats and yachts. A former gravel pit has been converted into a sparkling new harbour on Lake Constance. The Nordwesthaus building designed by Baumschlager Eberle rises 14 meters directly out of the water. Its unique architecture makes it an impressive addition to the area. Underneath the glass cube are decorative curved concrete walls that blend perfectly with the natural surroundings of reed and trees and are beautifully illuminated in LED light. In the evening the Nordwesthaus is a real eye-catcher. Dynamic colour sequences bring the unique building façade to life, creating a wide variety of displays within the basic architectural elements. When the building is bathed in greenish blue light it takes on the appearance of reeds that are being swayed in a gentle night-time breeze over the lake.
Yellow and red shades give the building a fiery glow so the Nordwesthaus becomes the fourth element alongside water, earth and air. Slow changes of colour in cool white tones are mirrored in the lake to produce fascinating reflections of infinite variety. Go inside the multi-functional building and the effect is just as captivating. The lighting scenes draw people in and give the entire space a pleasant atmosphere without being intrusive.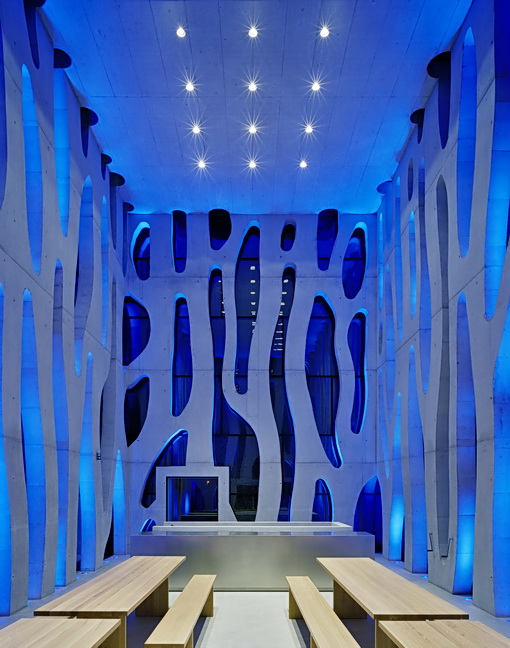 A complete solution – from LEDs to user-friendly lighting management
As an LED applications specialist Zumtobel has created an easy-to-use solution for this project that shows the wide range of design options that LED technology can provide. The 125 LED spotlights developed in cooperation with Baumschlager Eberle specifically for this project are cleverly arranged in the façade of the building to produce optimum lighting. The 12 integrated RGB LEDs per luminaire offer an immense spectrum of more than 16 million colours. This means that the colour of the lighting can change subtly from one shade to the next through the entire colour spectrum. The compact luminaires are fitted with asymmetrical optics to ensure that the amoeba-like voids in the concrete walls are fully illuminated. The optics spread the light wide in the voids in the walls and also focus it to the sides in the room and also to the outside. This means that there is very little scattered light inside the building, which in turn helps create a pleasant atmosphere and ensures that people are not disturbed by the built-in spotlights. DMX control enables dynamic lighting sequences to be created. It is these sequences that are helping to turn the building into a sightseeing attraction.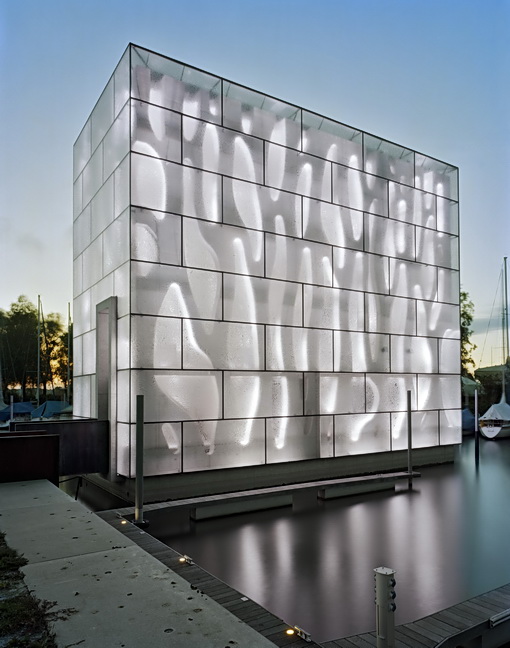 via: zumtobel.at
Fotos: Eduard Hueber