The refurbishment of 77 Des Voeux Road (now known as the Nexxus Building), transformed a 1960's curtain wall relic into an 'A' grade modern and efficient commercial building in the heart of Central, Hong Kong. The sustainable theme was continued into the lighting design. Nexxus needed to make a statement, something that would stand out when viewed in the two parallel 'concrete canyons' of Des Voeux Road and Connaught Roads, between which the building is sandwiched.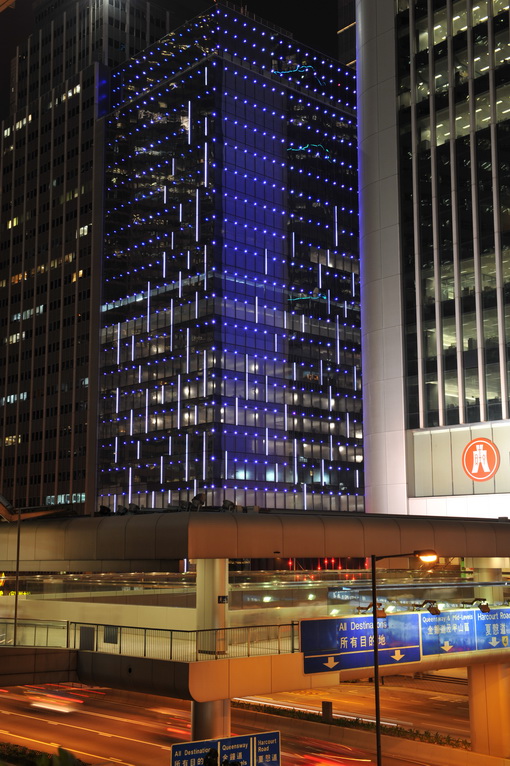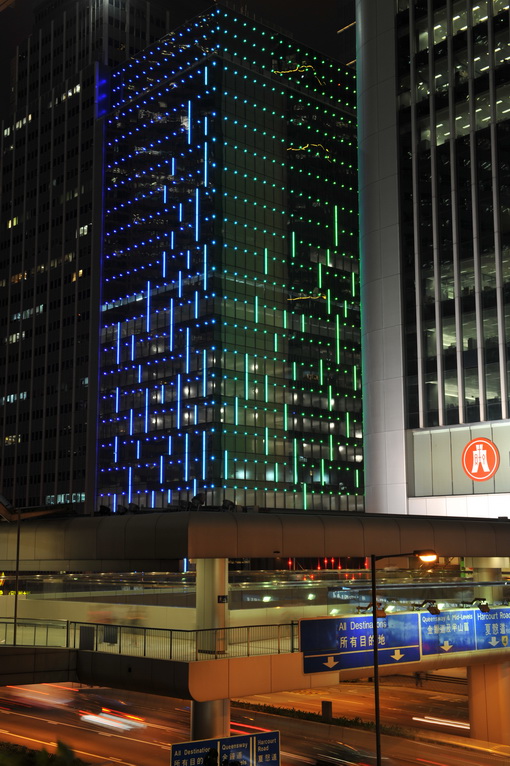 An LED 'direct view' lighting system was devised which would be integrated into the architects facade design, which included an organic arrangement of illuminated vertical fins of varying length and layout, overlayed on a geometric pattern of LED pixels which would be placed in the spandrel panels at the mullion junctions. Illumination physics BAR was ideal for the fins both in terms of dimensions and the rear cable entry arrangement. Approximately 600 lineal metres of product was used across the three faces of the building.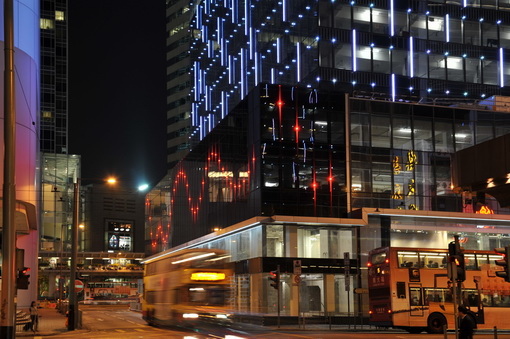 The pixels required a custom design for a small version of the illumination physics DOT, which could be integrated into the curtain wall system panels prior to them being mounted on the building. Core to the installation methodology was the objective to avoid any post fixing of lighting equipment. In the end this technique saved 80% of the cost of a more typical facade lighting installation, in which the equipment is installed after the curtain wall is complete. 1150 illumination physics SPECKs were used.The lighting system is controlled through a graphic interface product also from Illumination Physics,'X SOFT'. Both the illumination physics BAR and the SPECKs are mapped into one template and the system is programmed in video. Originally the building was illuminated with flood lights mounted on the podium roof. Over 20,000 watts was used and because of the reflective nature of the old curtain wall, light pollution was one of the results. The new Illumination Physics lighting system uses approximately 4000 watts.
Products:
1124 pieces of illumination physics SPECK 6 were used with special custom mounting bracket
100 pieces of illumination physics HP 12 channel drivers
500 pieces of illumination physics BAR Graphic in 500 and 1000mm lengths
50 pieces of illumination physics 3-way custom red Dot
Control system illumination Physics X-soft
via/by: illuminationphysics.com