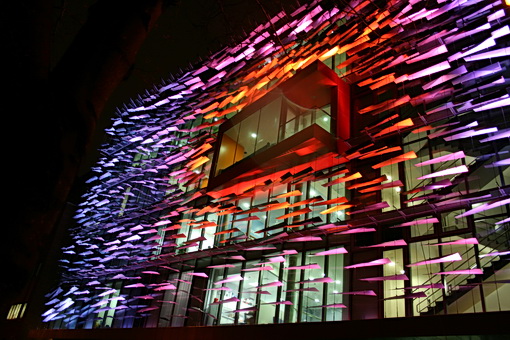 Highlighting Eye Lighting
A stunning lighting scheme has recently been designed, supplied, installed and programmed by Lightscape Projects, part of the Light Projects Group, for the Richard Desmond Children Eye Centre which forms part of the Moorfields Eye Hospital. The new building, designed by architects Penoyre & Prasad, is illuminated on the South side using a linear combination of Light Projects and Tryka RGB Colour Changing LED Equipment. The lighting illuminates the façade by casting light on the underneath of the freely placed folded aluminium louvres, on a tensioned cable net suspended in front of glass curtain walling to protect the building from solar gain.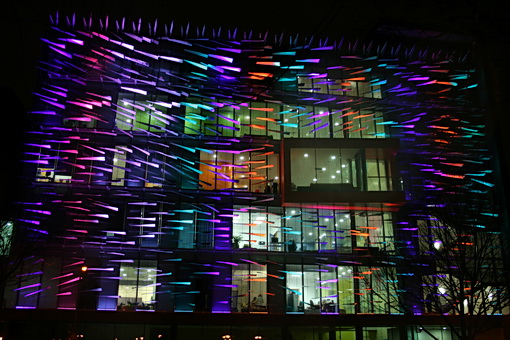 The light produces very accurate output with great sensitivity placed on the vertical cut off to prevent glare for people looking outside the window. All the light goes away from the glass to prevent direct glare of the occupants. The lighting system is controlled via a DMX 512 controller – with a Light Projects' designed programme to create shifting light scenes using an imaginative mix of subtle colours as a celebration of light and to create a living, breathing experience. The system can be overridden with certain special themes such as for specific events and for static colour washing.
Light Projects' Roger Beckett comments, "This project demonstrates how the improving synergy between architects and lighting designers can come together to turn building facades into magical events."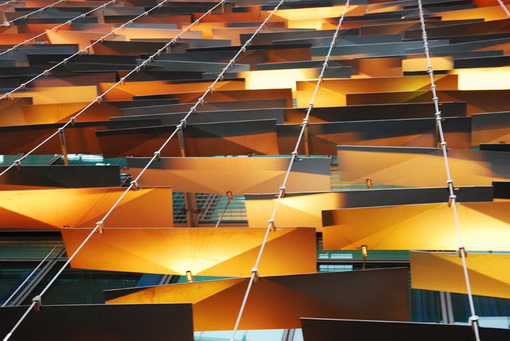 By: lightprojects.co.uk</a Photos: Gideon Sykes, Pressential LLP