The experience of light and lighting is multi-sensory: light does not only provide sight, but also enhances texture (that we feel), reveals shape (that we touch) and space (that we are in). Media architecture often is created using "hard" surfaces such as glass and composites, with little attention to the experience of texture and tactility. Luma Space 2010 is the result of an exploration of "soft" materials that are back lit using a pixelated LED grid.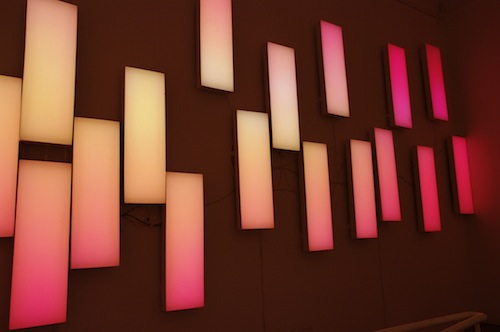 Connected fabric
Besides its unique tactile appearance, Luma Space is first and foremost a 3-dimensional arrangement of fabric panels that connect to each other. Consistent video media mapped onto the 3-dimensional shape creates a cohesion that seems to dematerialize the physicalinstallation. Media and form make an interplay that disguises the original physical shape, with a fluid, immaterial presence as the result.
The projection of light connects the surfaces and while the spatial setup of the panels suggests a coïncidental orchestration in space, the pixelated media seems to be stronger, and provides the overarching gesture, demonstrating how the designer achieves consistency by transforming the immaterial dimension of the installation only. That way a virtual image of the object is being created: waves of light flow across the installation and connect the fabric panels with each other in ways the physical original could never do.
The video imagery used on the panels is all hand made by the artist and the student team, who worked with a scale model of the installation that was "unwrapped" and then exposed to colour changing theatre lighting operated live and in real time. By recording the dynamic lighting on video, and mapping the film onto the fabric panels, continuity of the imagery was achieved without the use of any digital post production techniques.
Concept and Design: Rogier van der Heide with students of the Amsterdam University of Applied Sciences
Lighting Control Software: Color Kinetics control software
Supported by: Philips
Technology: Fabric Panels with full colour LED light sources behind