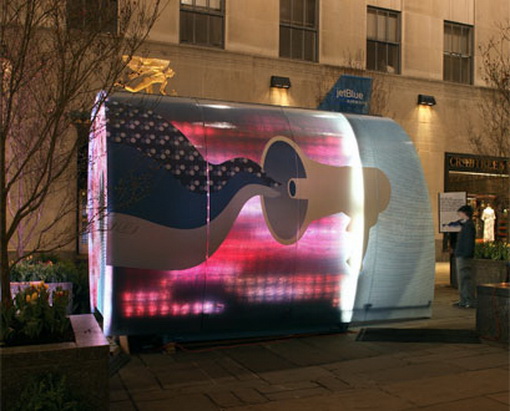 JetBlue knows its customers, thanks to an innovative traveling exhibit designed to capture its passengers' innermost thoughts.
Known as "The Story Booth," the interactive exhibit encouraged visitors to share their favorite JetBlue stories, which were filmed for use on the airline's website and in its advertising campaigns. In order to attract visitors to the exhibit during its 10-city tour, the exterior had to be dynamic and eye catching. Color Kinetics' LED lighting technology proved to be just the right tool.
The booth measured 16 feet long by 10.5 feet high, enclosing a simple automated audio/video recording system to capture visitors' stories. To animate the booth's exterior, 10,000 nodes of iColor Flex® SL were mounted behind translucent panels installed on a steel frame on one side of the booth. Additionally, 700 larger nodes of iColor Flex SLX were installed on the two adjoining sides of the booth, essentially wrapping it with points of dynamic light. The nodes are individually addressable, which allows them to act as pixels for low-resolution video displays.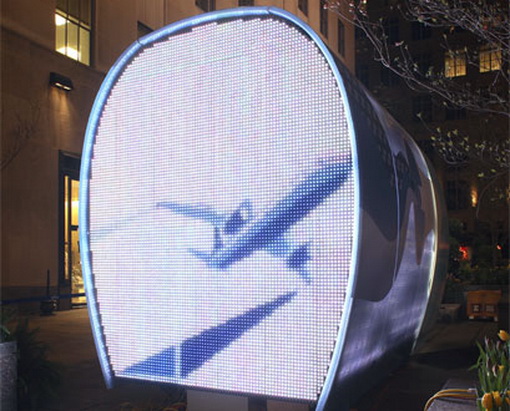 Because the booth was built to travel, durability and simplicity were paramount. The low power draw of the iColor Flex SL and iColor Flex SLX nodes allowed for easy set-up in each city without complex electrical requirements. "We had a whole video wall that used less than four 20-amp circuits of power, which is very low considering the scale of 10,700 nodes," said Lazer. The booth was transported from city-to-city by flatbed truck with the entire Color Kinetics installation remaining intact.
via: colorkinetics.com