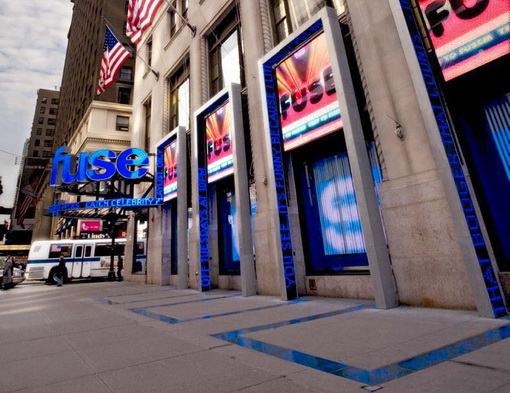 The FUSE music-television network, based in New York City, plays rock, alternative, punk, hardcore, emo and indie music. It claims a techsavvy audience ready to interact with the network via the Internet, cellphones and other wireless devices. Fuse recognized its product's popularity, said Fuse VP of Operations Dave Alworth, but needed an equally effective "public" profile to contend as a new, New York City icon.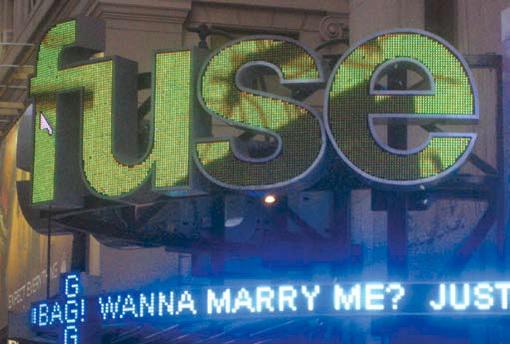 "Ultimately, the challenge we faced was how to use the signage to bring the Fuse television studio onto the sidewalk," said Fitch's studio director, George Kewin, AIA. "Vice versa, we also wanted to bring the viewing pedestrians 'into' the studio to have a more personal contact with the brand." Fitch proposed four types of LED displays that formed a series of overlapping sightlines to constantly draw viewers' attention, first to the building, then to the building's windows. From a distance, the Fuse channel letters, in which videoscreens are embedded, are visible at least six blocks south.
As pedestrians approach the building, a second sign system, a series of overhead, high-definition videoscreens, displays endlessly changing colors, video imagery and text messages across the building. For the third sign attraction, a "zipper" electronic message center snakes in and out of the serpentine contours of four, two-story-tall window bays, continues down into the sidewalk in front of the building and ends underneath the channel letters. Finally, surprised viewers watch as LED-display curtains fold and disappear behind the windows in front of them.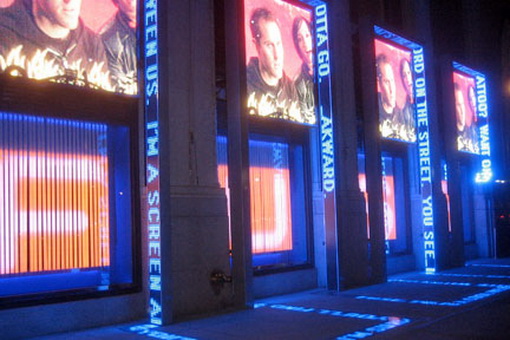 The curtain system comprises a mechanical framework that holds the LED tubes in place as it folds in and out of the window bay and LED video tubes, which LED Effects Inc. (Rancho Cordova, CA) custom designed and inserted into the curtain frame. The original mechanical structure was acquired, according to MultimediaLED's Bob Sawler, from a company in England, and then modified for this project. When closed, the curtains display a 6-ft.-tall video image. When opened, they fold back into a 12-in. storage space that allows an unobstructed view into the interior television studio.
Text by Louis M. Brill (louisbrill[at]sbcglobal.net)
Louis M. Brill is a journalist and consultant for high-tech entertainment and media communications.
Photos by MultimediaLEDs (Rancho Cordova, CA).