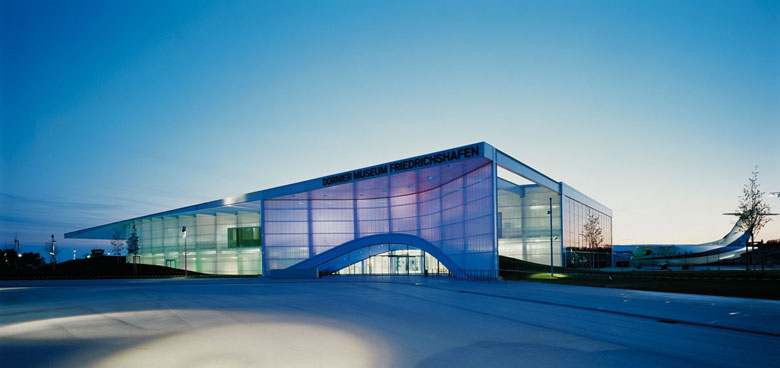 Friedrichshafen Airport has a new landmark: the Dornier Museum for aeronautics in Friedrichshafen is shaped like a hangar, impressively representing the fascination of flying. While, during the day, light penetrates into the building through large windows, the museum turns into a glittering point of light at night – with a lighting installation by James Turrell adding to the effect.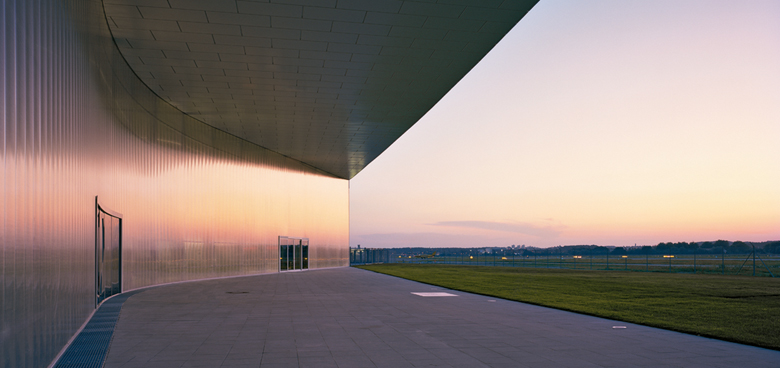 In the museum, visitors enter a bright, welcoming foyer. TECTON continuous rows and Vivo pendant luminaires make for a pleasant atmosphere. From the spacious entrance area with cafeteria and shop, visitors get into the museum box above, which illustrates the history of the Dornier company and the milestones of aviation in eleven rooms. Model airplanes, drawings and other historical exhibits are highlighted in glass display cabinets by means of batten luminaires and compact LED spots. The lighting design makes do without any windows, structuring the exhibition rooms in relatively bright and relatively dark zones that provide for variety on a tour through the museum, highlighting certain exhibits. The hangar contains the heart of the museum: a large hall with historical airplanes, many of them veritable curiosities. Slotlight luminaires with a special louvre ensure uniform illumination without undesired shadows.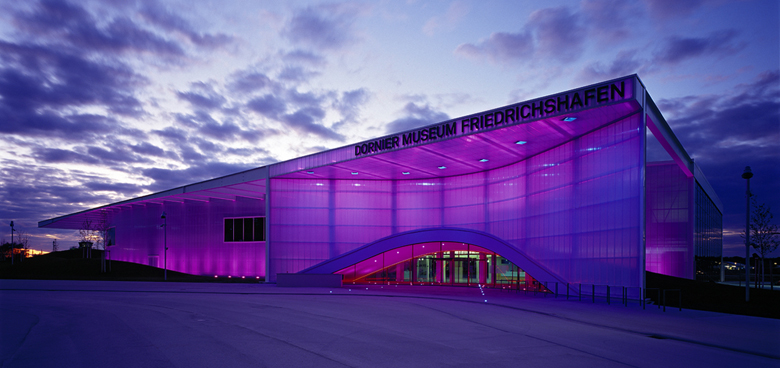 To highlight the exterior facade during the night, James Turrell has created a lighting work of art bringing visitors' perception to new dimensions with its harmonious colour sequence. Thanks to innovative 16-bit control, the luminaires' colour space was extended to several million colours, providing nearly unlimited freedom in lighting composition.
Credits:
Lightning Hardware:
Zumtobel
Owner: Dornier Stiftung für Luft- und Raumfahrt, Munich/D
Architect: Allmann Sattler Wappner Architekten, Munich/D
Lighting design: Belzner Holmes, Heidelberg/D
Lighting technology: Nelzner Holmes, Heidelberg/D
Electrical consultants: Raible + Partner, Reutlingen/D