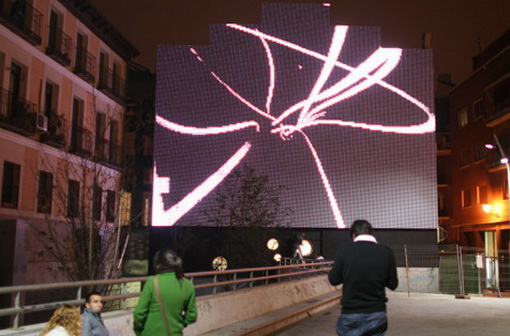 Open Up is an advanced project development workshop for the digital facade of Medialab-Prado. From February 9 through 23, working groups will develop selected projects in a collaborative way. The event includes theoretical activities February 9, 10 and 16 with lectures by the teachers of the workshop and also Erkki Huhtamo and Jennifer Steimkamp.
Technical information:
The MEDIALABPRADO's LED screen uses the Philips Color Kinetics iCOLOR FLEX SLX system. It is formed by a series of rectangular panels that are fixed to the facade of the building that faces
Digital facade's size, inferior rectangle:
Width: 14.5 m (48′)
Height: 9.4 m (30′)
Digital facade's resolution:
Horizontal resolution: 192 lines
Minimum vertical resolution: 125 lines
Maximum vertical resolution: 157 lines
Resolution: 192 x 157
Nodes/Pixels:
Number of nodes (inferior rectangle): 24.000
Number of total nodes: 26.680
Each node is composed of 7 LED's; 2 red, 3 green, and 2 blue.
The iCOLOR FLEX SLX system can display up to 64.000 million (36bit) of RGB additive colors, of constantly variable intensity.