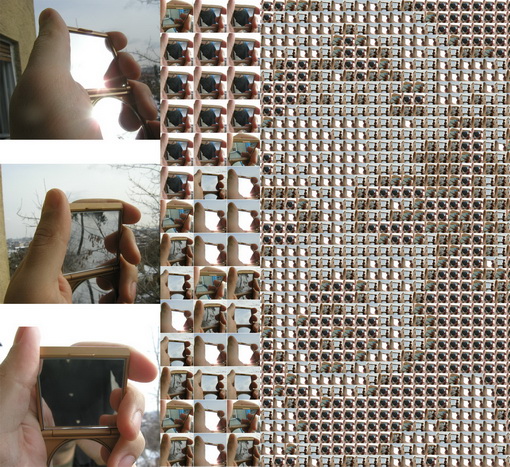 Aleph is an experimental public display, that is using the spaces, people and objects it faces as a palette to display messages from hidden viewpoints. When looking at a small mirror, it reflects a fraction of the space around us, when looking at a mirror façade, it reflects most things around us, containing segments that are dark or bright, red or green. But if we build a matrix of small mirrors, which can adjust their tilt according to the site they are facing, we can create a display that uses the ever changing flux of the place to show images from certain points in space.
Concept explaining collage This image is generated from unedited photos using a mirror and tilting it to reflect various brightness levels.

It will not be comprehendible from all viewpoints, just from specific ones, asking visitors to explore the space, or providing surprising flashes in a public setup that can stay around the edge of comprehension. We can for example limit this point to the height of a child, so whenever she or he looks at the mirror, drawings emerge from the reflections of the clouds, drawings that appear only for them, that adults will not be able to see.
via: www.aether.hu