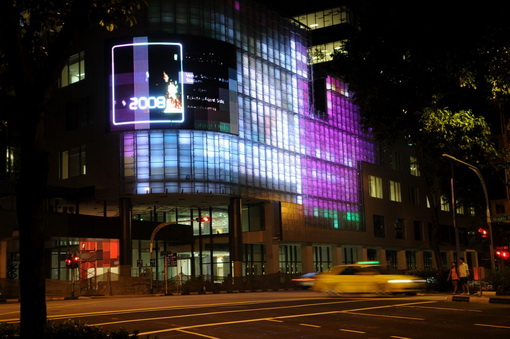 AAamp (architectural advertising amplifier) artistic low resolution media facade installation augmenting a commercial LED billboard. In close cooperation with WOHA architects for the A.AMP project a façade design was developed, which combines the conventional functionality of an office glass façade (and a decent daytime appearance) with a spectacular dynamic communication format at nighttime.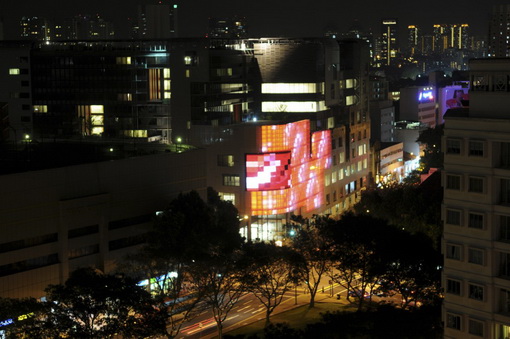 realities:united's conception proposes the construction of an "Architectural Advertising Amplifier" (A.Amp.). A very large and very large scaled matrix of over 500 full color LED light units supplements and surrounds a given high-end LED screen displaying commercials. As the daytime office use slowly fades out the windows of any evacuated office cells are covered by computer controlled blinds transforming the outer surface of the building step-by-step into a large screen display. The image is generated by individual LED light "projectors" which are placed behind the curtain wall glass facade along Selegie Road and which project back against the inner façade of the building.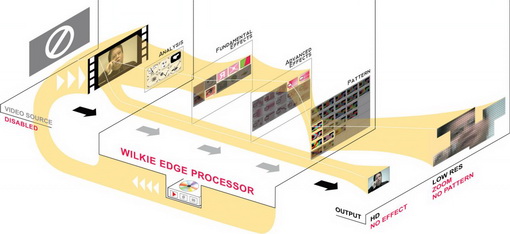 Specialized software is used to analyze and transform the moving images on the commercial LED billboard into a visual color-echo displayed on the surrounding low resolution A.AMP screen installation in real time. Although the resolution of the installation is rather low the displayed abstract images maintain a good legibility. The human brain manages to recognize the color patterns as part/repetition of the moving images displayed on the embedded LED high end screen. (-> compare C4 project, Cordoba) In this way the low resolution media installation works as a visual amplifier augmenting the commercial content over the building's facade and reaching a scale which is relevant to the architecture as well as to its urban context. A unique type of an urban landmark effective both on Selegie Road as well as on Middle Road. The facade will always be a layered collage of the digital images produced by A.AMP and of "material" architectural elements. Offices still in use will punctuate the digital image here and there with their static light windows. This way the dynamic exchange between material and media becomes a persistent plot: sometimes struggle, sometimes a dance. That way the building is not covered and hidden by the installation but the architecture itself is transformed to become a carrier of digital information.