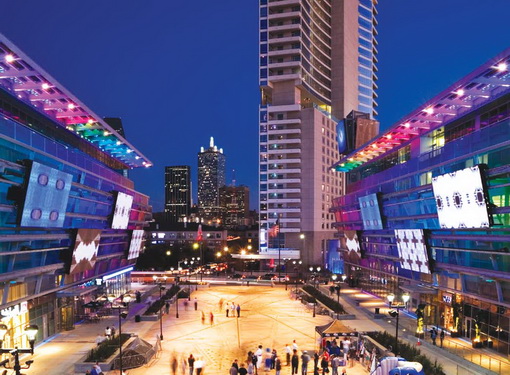 Texas always does things in bigways, and Victory Park, an urban, mixed-use community/businessdevelopment area that recently opened in Dallas, personifies that grandiose Texan vision. A network of grand-format LED displays, a key component of this entertainment destination, intricately connects visitors to the United States' largest outdoor, digital-art gallery (part of what is known as Victory Media Network® [VMN]) and binds Victory Park tenants, visitors, sponsors and visual artists into a globally connected media world. Three distinct, yet integrated, display sites comprise the VMN display system, the site's most visible aspect:
The Portal Screen
It attracts and promotes plaza activity and incorporates event promotions, sponsor branding, Victory Park advertising, and daily, live WFAA (an ABCaffiliate) newscasts.
The Tower Display,br /> One screen faces Victory Park's main gateway, and the other faces the plaza. The tower displays Victory Park and sponsor logos
Media Walls
Eight, 10-pixelpitch OLite Barco boards, each 15 x 26 ft. long, are divided into two sets of four, mobile displays. Each set is mounted on a five-story office building to create the site's epicenter. Both buildings face each other, separated by the large plaza's courtyard. This allows visitors unobstructed views and immersive experiences with the ongoing media-wall presentations.
Horizontal rails allow the videoscreens to move across each building.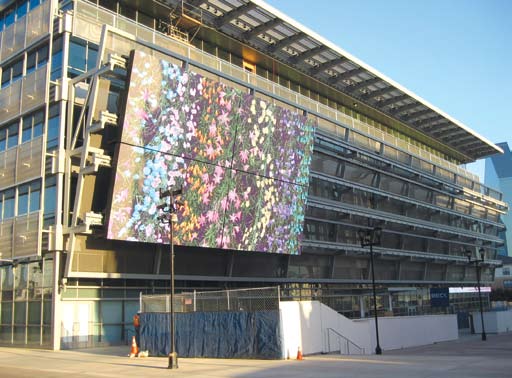 From signs to media platforms
David Gales, principal of Vantage Technology Consulting Group:
The challenge was how digital media could create an exciting urban destination and a dynamic, mixed-use environment, and also be economically sustainable. This led us to the unified structure that we called VMN, which presents a mix of commercial and non-comercial content in a large, public space.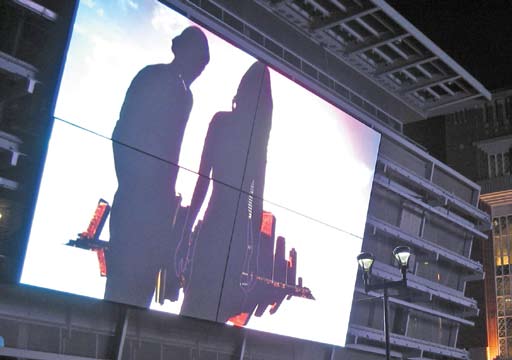 You've got soul
If Victory Park's heart is its architecture and EDS integration, ist soul lies within VMN and its media walls. The walls' noncommercial, digital-art program serves as an ongoing cultural area that reinforces Victory Park and Dallas as a new, international entertainment destination.
Operating at least 16 hours daily, the media walls offer various content:
An outdoor art gallery
The media walls comprise the United States' largest outdoor digital-art gallery. In conjunction with VMN, the Victory Arts program collects graphic animations and video art for continual display on the media walls.
Commissioned art
Jennifer Steinkamp, an internationally known installation artist who works with architecture, motion and perception, created "Ring of Fire" for VMN
A unique branding opportunity
Sponsorships allow corporations exclusive branding rights to promote their business actvities and host special events. Each sponsorship opportunity allows corporations specific time each day on VMN's media walls, the tower screen, the portal screens and the electronic-kiosk system.
Live news on a daily basis
One tenant, WFAA-TV (an ABC affiliate), airs news and entertainment to the greater Dallas metropolitan area. To complement VMN, WFAA broadcasts its live news segment at selected times on the portal screen. At least 40 to 60% of the media walls' daily content features the digital-art collection.
Text by Louis M. Brill (louisbrill[at]sbcglobal.net)
Louis M. Brill is a journalist and consultant for high-tech entertainment and media communications.