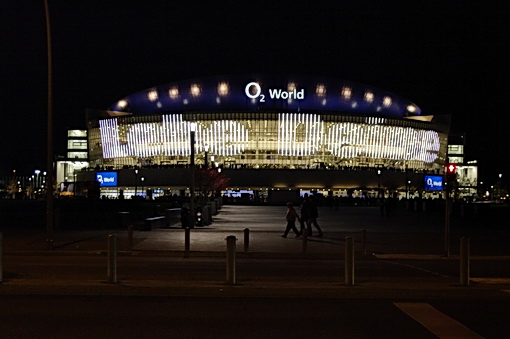 The O2 World Arena is located on 50 acres along the Spree River near the Berlin Wall East Side Gallery in the heart of Berlin, Germany. The arena seats approximately 17,000 people. Grand opening ceremonies were Sept. 10, 2008. The first event, a Metallica album release party, was Sept. 12, 2008.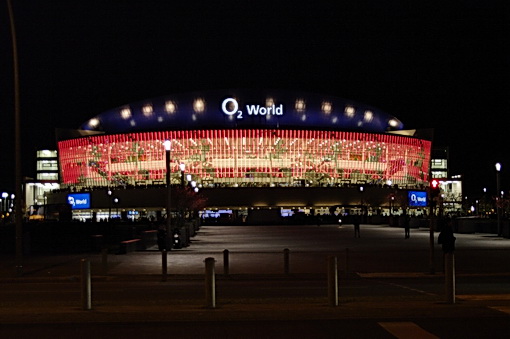 The south end of the arena features a curved glass facade that overlooks a plaza area. The plaza area leads to a remnant of the Berlin wall and the Spree River approximately 225 yards (210 meters) away.
The facade is approximately 380 feet (116 meters) long by 40 feet (12 meters) tall.
The facade is built on a 104-degree curve with an average radius of 213 feet (65 meters).
There are 117 vertical mullions spaced slightly more than 3 feet (1 meter) horizontally across the facade.
Each mullion is angled toward the ground from the top by 9 degrees.
In conjunction with the building's architects, LightWild custom designed a mullion cap that seamlessly integrates into the building's architecture and also includes LightWild Pixels, a color-controlled architectural LED lighting source.
Each mullion has 60 Pixels spaced about 8 inches (.2 meters) vertically.
In all, there are 7,020 LightWild Pixels installed in the vertical mullions on the facade of the arena. Each Pixel includes 40 individual LEDs, meaning 280,800 LEDs are in use on the facade.
The LightWild Pixels on the facade display colorful moving graphics and video effects that are created with the popular Adobe Flash software application.
Data is communicated from the arena control room to the facade through a LightWild-designed network that transmits DMX signals over Ethernet.
via: www.lightwild.com