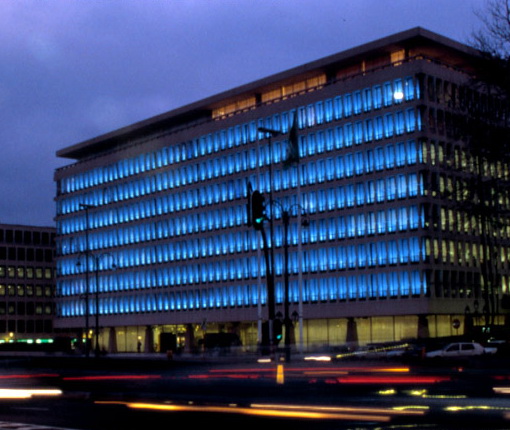 This Project is some years old; even older than Blinken Lights and also very influential. By posting it now, we are fixing a big hole in our collection
The BBL, an ING bank decided to organize a major event around their headquarters in Brussels, Belgium to celebrate the new Millennium. The bank's goals were to valorize its unique architecture and clearly identify the bank to the building. The extraordinary building designed by Gordon Bunshaft of Skidmore, Owings and Merrill was an absolute inspiration to the Magic Monkey design team.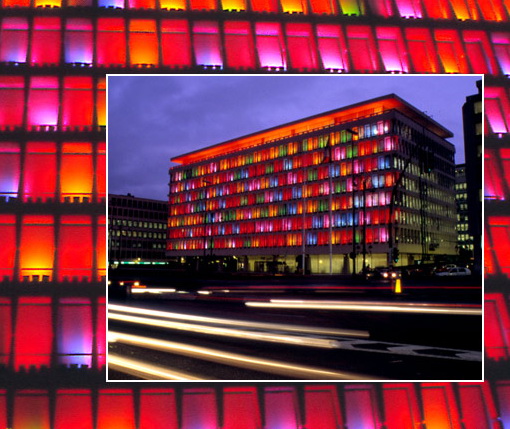 The Magic Monkey turnkey solution (original concept, design, installation & management) was to convert the entire 2000 m2 façade of the building into a giant video display transparent to the occupants of the building but highly visible to the thousands of people driving by everyday. The project was inaugurated on December 8th 1999. Everyone was invited to participate and create their own images and animations by downloading a free animation interface from the burgeoning web (remember dial-in connections!).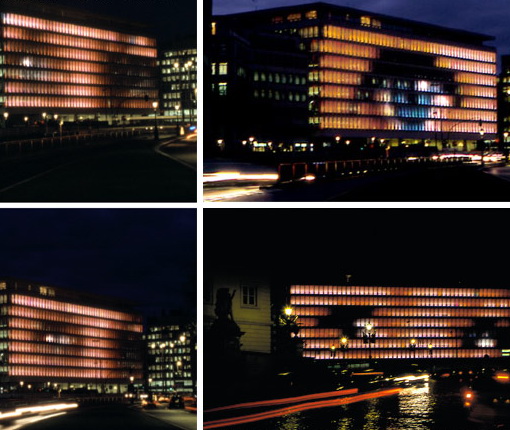 As soon as a new animation was uploaded via the website created for the project, participants would receive an email thanking them for their participation and telling them when their animation would play on the building. Entire families could then come see their animations on the building or watch from the web cam. The Marnix Monumental Interactive Matrix project was a huge success, lots of participations and a big impact on people's imagination. The Bank was delighted and so was everyone else. As a little bonus, a jury of artists (Yvaral, Yann Kersalé, Robert Palmer and Franco Dragone) was invited to award 4 equal prizes of 2000 Euros to their favorite animations for the 1st edition and 4 equal prizes of 2001 Euros for the second edition.
via: www.magicmonkey.net