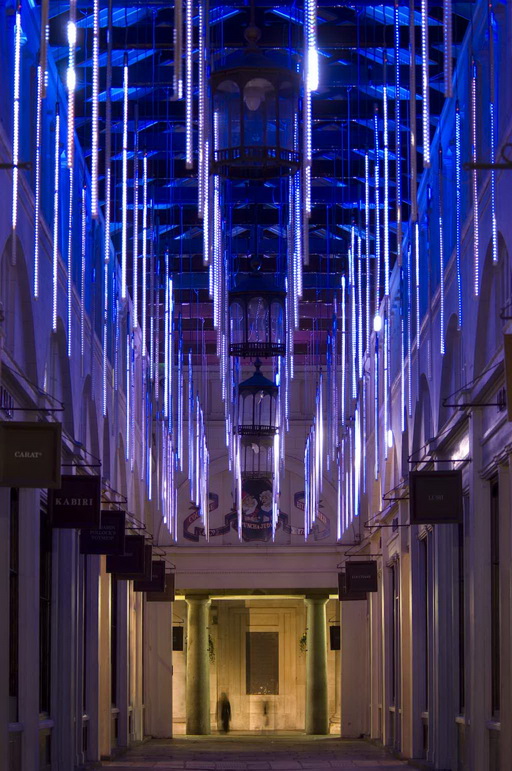 TARMLED SHINES BRIGHT AT COVENT GARDEN IN LONDON
Constellation
A work by United Visual Artists Ltd
UVA present their latest responsive installation commissioned by Covent Garden as part of their Delight Christmas campaign this year. "Constellation" is a light-based sculpture which has been designed especially for the Covent Garden Market Halls.
TARMLED GmbH & Co. KG of Bochum, Germany supplied a total of 578, 2m long, double-sided, LED-strips, and 37 DPDUs (Data Power Distribution Units), to power the installation in the English capital that has become the talk of the town after just a few days of operation. In just 10 weeks TARMLED's engineers developed double-sided, video-compatible LED-strips based on it's TARMLED STRIP 25-modules that were premiered at the "PLASA 2008" show. The LED strips were incorporated into polycarbonate tubes coated with a semitransparent reflective film, in accordance with UVA's design. Together with 37 customised TARMLED DPDU's, the tubes are allowed to hang elegantly in the space, as the DPDU's allow for cable runs of maximum 20m from the fixture using a single CAT5e cable carrying data and power to each fixture. The 25mm pixel spacing of the TARMLED STRIP and UVA's regular grid layout of the tubes allow for spectacular 3D-displays of voluminous, complex, geometric patterns and effects. The system is entirely driven by UVA's d3 production system.
Technical details:
1156 x 2m strips of TARMLED STRIP 25
37 x TARMLED DPDUs customised for UVA
37 x Enttec Datagate
40 x Chromaflood 200
24 x SGM Palco 3
11.8km CAT5e cable
1.2km polycarbonate tube
135sqm semi-translucent mirror silver film
1.4km steel wire
92.480 LEDS
138,720 channels of DMX
1 x d3 production controller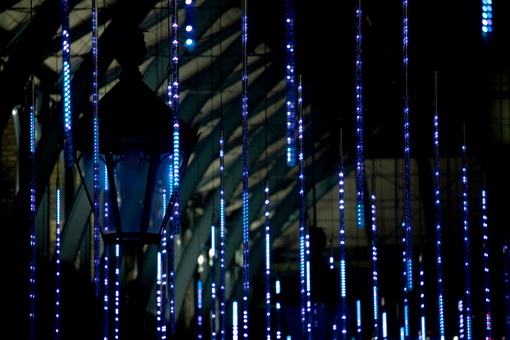 Constellation is a 3-dimensional volumetric lighting installation. It is the first of its kind in the world and features 600 custom-made LED tubes elegantly encased in a one-way mirror film. Constellation was also individually controllable using a custom-designed control panel, giving the installation an intimate connection with the public. During the day it is a beautiful grid of chromed columns hanging elegantly in the space. At night it transforms into a 3-dimensional lighting display. Constellation was designed especially for the indoors of Covent Garden Market Halls. Launched as the flagship piece of the winter season program at Covent Garden 2008.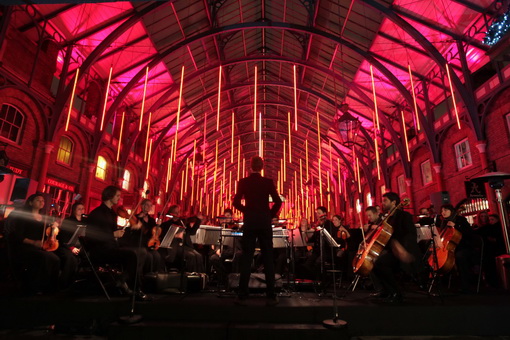 by/via: United Visual Artists, Tarmled