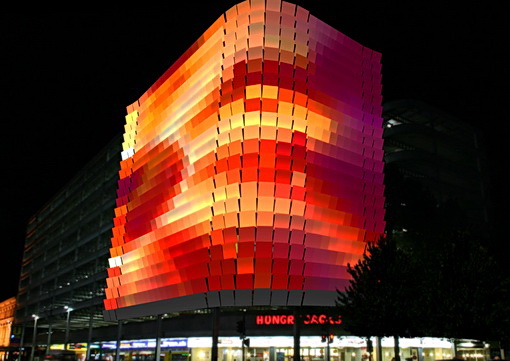 Rundle Lantern will be launched at 7.30pm Friday 24 October! Be there as it lights up Adelaide for the first time. Join the celebration with music, entertainment and more.
Constructed around the face of the Rundle Street U-Park, the Rundle Lantern is a digital canvas that uses computer controlled LEDs to illuminate 748 square panels to deliver a unique platform for art. Its purpose is to enrich, invigorate and enliven the intersection of Rundle Street and Pulteney Street.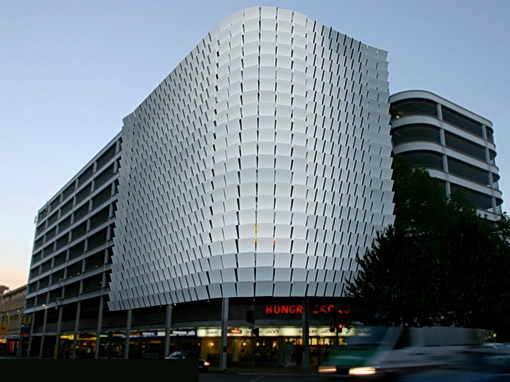 At 1066 square metres, the Rundle Lantern can be programmed to display simple numbers, letters and geometric shapes as well as an infinite array of lights, colour, morphing designs and patterns.
Rundle Lantern Alternate ColourIllumination is through 17,952 light emitting diodes (LED) configured as 5.984 of each colour – red, green and blue through 1496 units that each contain 12 clusters of red, green and blue LED's. The LED's can create any configuration of 16 million colours which are reflected upwards onto 748 aluminium panels of 1.1 m x 1 m.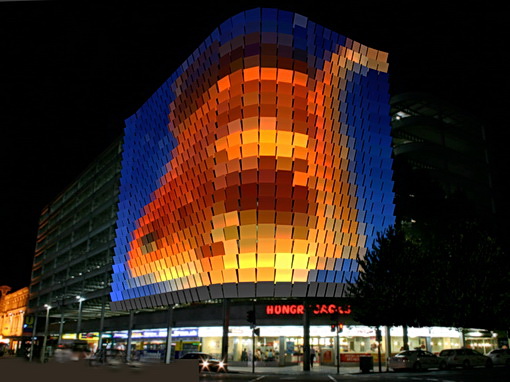 The Rundle Lantern was designed by Fusion, an Adelaide-based agency for the digital age following a competitive design tender by the Adelaide City Council's Urban Design team.
The Rundle Lantern was launched at the end of October and operates each night from dusk to midnight, with hours extended for special events.
via: Fusion, cityofadelaide