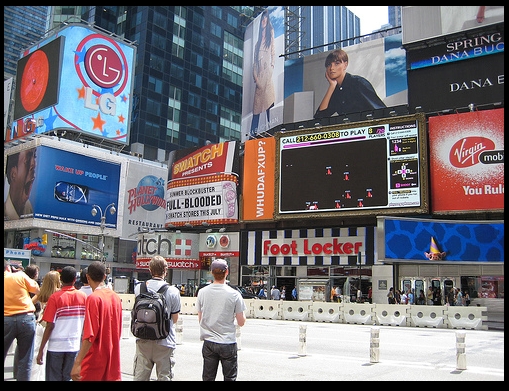 MegaPhone is Phonecall-Controlled, Real-Time, Multi-Player Collaborative Gaming Platform for Big Screens in Public Spaces, but we already said that. What we mean is,

it's a game you control with a phone call.

MegaPhone is NOT a downloadable application that runs on your phone, and it's NOT a wireless network, like Wifi or Bluetooth.
There are two ways to send input to the display: keypad and voice. The keypad can be used much like a video game controller, and the volume and pitch of the phone's microphone can also become input in the game.
MegaPhone updates the game state on a shared screen, and can send custom audio and text messages back to each user. MegaPhone uses this mobile channel back to the caller to close the loop on out of home media advertising.
(more…)