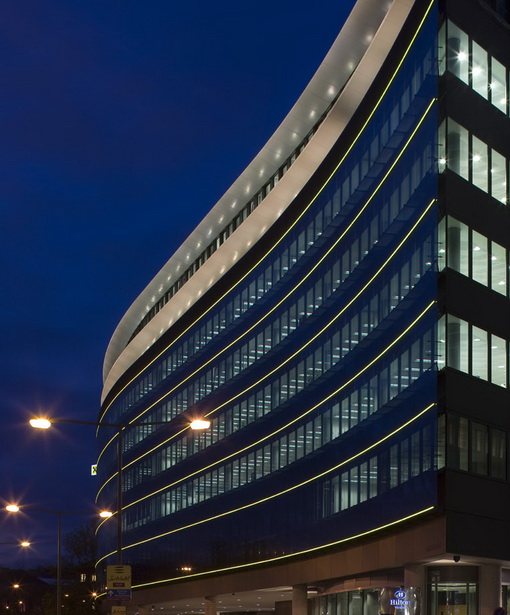 The Raiffeisen office building in Vienna has been nicknamed "Die Welle" (The Wave) because of its S-shaped façade. With its coloured LED lines including cabling, control and programming, Ledon has given the building façade accent lighting that can be seen for miles. The vibrant yellow meets the corporate design guidelines perfectly and makes the building an instant calling card for the company.
Up to now the employees of Raiffeisen International had offices in three different buildings. To unite them under one roof and therefore strengthen the feeling of togetherness, the renowned architect Hans Hollein planned a building that was aligned perfectly with the S-shaped street along the side of the building plot. This architectural wonder on the edge of Vienna's Stadtpark (City Park) is a spacious building of 11,000 m² and very quickly became known as "Die Welle" (The Wave).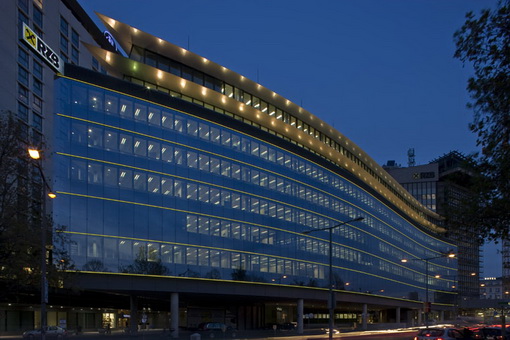 LED string: true colours, continuous appearance and user-friendly design For eye-catching façade lighting Zumtobel and Ledon developed a special line consisting of around 36,000 LEDs, with each LED having a special yellow-white colour. Integrated in the Raiffeisen-yellow diffuser the string produces light in the precise corporate colour. To create a uniform line it was essential to focus on two specific design aspects. White LEDs were used that were all within in single colour location. This was particularly important because even slight discrepancies could be considered annoying. Special cabling ensures that the spacing between the individual tubes is minimal, which makes the line appear continuous. Thanks to DMX512 each light line can be individually controlled.
via: ledonlighting.com
Fotos: Walter Luttenberger